Sail on your sea kayaks next to the whales scrolling between fjords and glaciers of Chilean Patagonia in the mythical Magellan Strait and Darwin's mountain range in Tierra del Fuego. This is an adventure trip for nature lovers with the additional comfort and safety of the support provided by the "mothership". A luxury adventure. Kayak with whales between fjords and glaciers mothership mode program is an adventure trip in which you sail to Francisco Coloane Marine Park in the Strait of Magellan. In this trip you will get to interact with humpback whales in the southern fjords of Tierra del Fuego, near Darwin's mountain range. This trip offers the logistical support of the mothership, so that while you face the ever-changing conditions of the Patagonian nature, exploring it in the kayaks you have the constant support of the ship with all its amenities. This offers the opportunity to have these close encounters with nature to visitors who do not have the time or experience to make an autonomous expedition.
Kayak Agua Fresca is an experienced adventure tourism company which has been operating in the region since 2009. We promote sustainable principles as well as the local development of eco-tourism. We aim to deliver experiences which allow our guests to foster a stronger connection and understanding for our natural environment, history and culture. We want you to have a great and unforgettable time but we must always be respectful of our community and our pristine environment. We offer professional equipment and the best security standards, this means that you can focus on experiencing every moment while our friendly and professional staff insure the safety of all guests. Finally, we are local kind people and we have a love for service, we will always give you the best of us.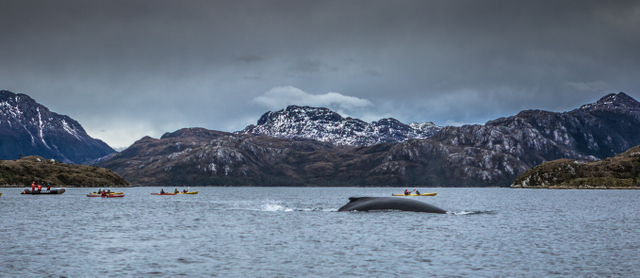 This excursion is designed for real adventurers and nature's lovers. Navigate the southern fjords of Patagonia aboard a mothership. Kayak through incredible locations from the comfort of our stable double sea kayaks. We will visit spectacular feeding grounds of Humpback Whales and paddle through majestic fjords between glaciers and waterfalls. This experience will leave you feeling like a true explorer as we paddle in one of the last untouched regions of the world. After you experience the unique weather conditions of Patagonia rest assured that that our mothership will offer provide you with warmth and comfort. Here we will enjoy another adventure, traditional chilean meals with exquisite wine. Now it's a great time to share our stories and experiences from the day. You don't need to be an expert sea kayaker, our guides will share with you professional instruction to insure safety and allow you to develop your paddling skils.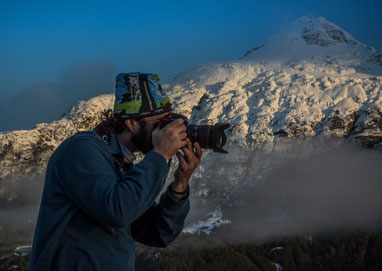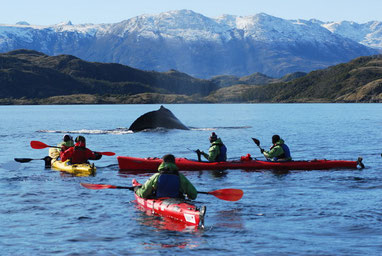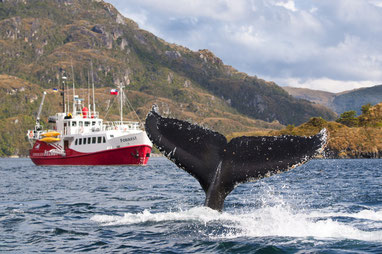 06:30 American Breakfast
08:00 Show up time for passengers on deck
in order to disembark on the beach in zodiac
boats.
08:30 Paddle towards Glacier Tongue at
Darwin's mountain range (3 hours approx.)
12:00 Return to the mother ship on Zodiac
boats
12:30 Lunch time (Starter, main course,
dessert and drinks)
14:30 Show up time for passengers on deck
in order to disembark on the zodiac boats to
observe detachments of glacier ice blocks.
We will visit different glaciers.
17:30 Return to the mothership on the
Zodiac boats.
18:00 Set sail of mothership towards Aguila
Bay.
19:30 Gathering for a cocktail and a drink.
Explanation of activities for the next day.
20:00 Dinner
*Guide talk: Dawson Island, Albatross, Cape San
Isidro (Lighthouse), El Águila bay.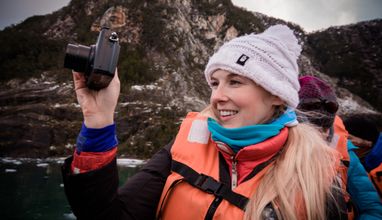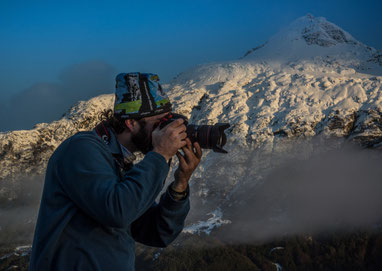 Itinerary
Day 1
Punta Arenas – Cape Froward
Francisco Coloane Marine Park
07:00 Pickup from hotel or agreed place.
08:30 Set sail from Carrera Bay, navigation
through Magellan Strait. Beginning at Punta
Santa Ana were first settlement of the
Magellan strait took place, with Mount Tarn on
the background (Charles Darwin described it in
his book "The voyage of the Beagle").
09:00 Welcome aboard meeting, staff
introduction and show the passengers all the
mothership facilities.
12:00 Passing by Cape Froward, the
southernmost point in the American continent.
12:30 Lunch
15:00 Paddling and safety instructions
17:00 Paddling start at Shag pass. A soft
paddling around this area searching for whales
and wild life.
20:00 Meeting about the day and explanation
of activities for the next day.
21:00 Dinner
Day 2
Francisco Coloane Marine Park –
Shag Pass
06:30 American Breakfast
08:00 Show up time for passengers on deck
in order to disembark on the zodiac boats on
the beach.
08:30 Paddling start at Shag pass (wildlife
route) A soft paddling around this area
spending time searching for whales and wild
life.
12:00 Return to the mothership from the
beach on board the Zodiac boats.
13:00 Lunch time (Consisting of a starter,
main course, dessert and drinks)
14:00 Sailing to Parry Fjord (Photo
afternoon and rest time)
19:30 Gathering at the end of the day for a
cocktail and a drink. explanation of the
activities for the next day.
20:00 Dinner (Starter, main course, dessert
and drinks)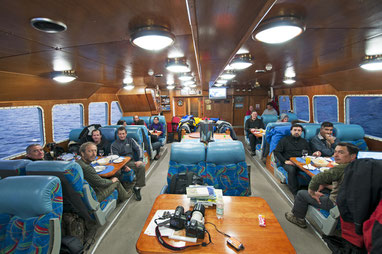 Itinerary
DAY 4
San Nicolás Bay to Cape San
Isidro (Kawésqar route)
08:00 American Breakfast
09:00 Show up time for passengers on deck
in order to disembark on the beach in the
zodiac boats.
09:30 Paddle towards El Águila Bay. (3
hours approx. / Kawésqar route)
12:30 Return to the mother ship on zodiac
boats.
13:00 Lunch time (starter, main course,
dessert and drinks)
15:00 Show up time for passengers on deck
in order to disembark on the zodiac boats to
visit the San Isidro lighthouse.
16:00 Return to the mothership on zodiac
boats.
18:00 Arrival at Carrera Bay, passengers
disembark and then take the bus to their
hotel in Punta Arenas.
19:00 Arrival at accommodations in Punta
Arenas.
21:00 Dinner and trip closing ceremony
*Guide talk: Kawésqar routes, Aguila Bay and
San Isidro Lighthouse.
This trip includes:
Transport
Transfer from Punta Arenas to shipping
port, shipping of all the sections
mentioned in the description.
Mothership
Accident insurance, accommodation on
board in shared base (double and
quadruple cabins)
Food
Meals, snacks, cocktails, hot and cold
drinks. (The basis of food are national
products in traditional recipes)
Kayak
Tandem double kayak, semi dry clothes
kokatat, guided by experts, safety and
technical talks, interpretative and
observation of wildlife paddling sessions.
This trip does not include:
Flights to/from Punta Arenas, Chile
Airport shuttles
Gratuities
Hotel accommodation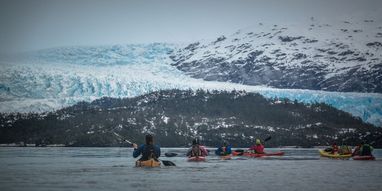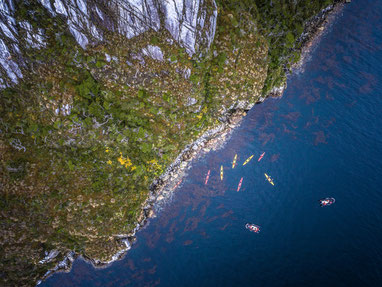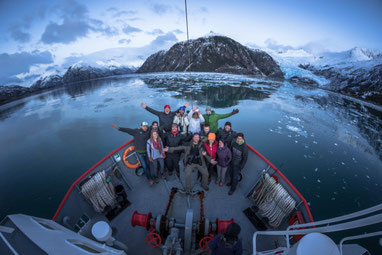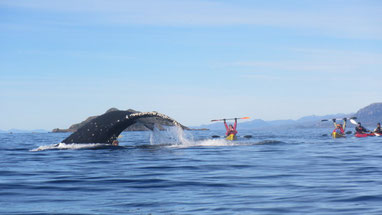 November
December
January
February
April
Interest points in our navigation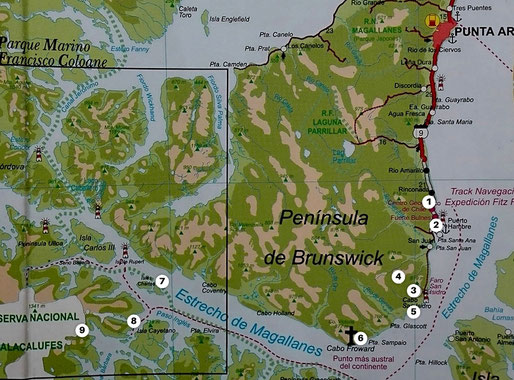 BRIEF DESCRIPTION OF NATURAL AND HISTORICAL ATTRACTIONS OF OUR NAVIGATION
1 CARRERA BAY
STARTING POINT OF THE EXCURSION - SET SAIL POINT
Located 50 km south of Punta Arenas, near from Bulnes Fort.
It is known as an important port of shipment in the city of Punta Arenas.
2 BULNES FORT
REPLICA OF THE HISTORIC FORT, WHERE THE FIRST SONS OF MAGALLANES REGION WERE BORN
In May, 1843 the schooner "Ancud" set sail from Ancud, Chiloé Island, in command of
Captain John Williams. After 4 long months of sailing, the schooner "Ancud" anchored
outside "Hunger Port" on September 21st. Captain Williams took possession of the Strait
of Magellan and its territory. In this place was founded a fort named "Bulnes", in tribute to
the current president "Manuel Bulnes".
3 CAPE SAN ISIDRO
OBLIGATORY PASS OF THE GREATEST SAILORS IN MARITIME HISTORY OF MAGALLANES
REGION.
San Isidro Lighthouse is the southern most habitable lighthouse of the American continent.
It has more than 100 years of history that are part of the cultural heritage of the zone.
Pristine environment surrounded by sub-antarctic forests and marine wildlife such as the
Peale's Dolphin, an endemic species of Southern South America. It is also possible to find
Sea Lions and South American Fur Seals.
4 MOUNT TARN
PLACE OF DISCOVERIES.
Charles Darwin was one of the first explorers in the ascent "Mount Tarn" in 1834. He
visited "The Strait of Magellan" and sailed aboard the famous English ship "The HMS
Beagle" commanded by the Captain Fitz Roy during the 19th century. Darwin discovered
the first ammonites that has been ever found in South America. Ammonites are ancient
cephalopod molluscs with rolled outer shells and bilateral symmetry.
5 ÁGUILA BAY
THE ONLY WHALING IN THE STRAIT OF MAGELLAN MORE THAN 100 YEARS AGO.
Águila Bay is located 75 km south of Punta Arenas, at the beginning of the southeast
coast of Brunswick peninsula. There was the first plant for storage and treatment of
whale oil. There were important facilities for industrial slaughtering of cetaceans. In the
active period of whaling they almost exterminated the species reaching a number of 30
cetaceans. Nowadays, there are approx. 240 whales remaining in the Magallanes Region.
6 CAPE FROWARD 
THE MOST SOUTHERN PIECE OF LAND OF THE AMERICAN CONTINENT.
Located 90 km south of Punta Arenas. In this place is the famous "Cross of the seas" in
tribute to all the brave sailors that have sailed this rough waters. Cape "Froward" was
named by the English corsair Thomas Cavendish, in due to his many attempts to sail this
waters. Froward means: difficult to deal with.
7 FRANCISCO COLOANE MARINE PARK
CHILE'S FIRST MARINE PARK
Created in 2003. Located in Magallanes region, in the Strait of Magellan between Santa
Ines and Riesco Islands. The Park was created because it is part of a very important
biological corridor, being the habitat of the famous Humpback Whale and here is possible
to see whales during their feeding season.
8 SHAG PASS
PLACE OF GREAT CONFLUENCE OF WHALES
The Shag Pass is located within the protected area of Francisco coloane Marine Park,
between Cayetano and Santa Inés Islands. It is a place that has a great concentration of
Humpback Whales and it is an essential point in our navigation.
9 SARMIENTO GLACIER
A HUGE SUB-ANTARCTIC ECOSYSTEM
This is a tempered-cold glacier, it is sometimes very rainy and it use to suffer frosts.
It belongs to the mountain range of the southern Patagonian Andes. The area is surrounded
by dense sub-antarctic Nothofagus forests. There are also many islets and rocks covered
with mosses and lichens, charactheristic of the sub-antarctic ecosystems.
The marine ecosystem is determined by feeders and the convergence of migratory currents
of many marine mammals and birds.
10 PARRY FJORD
Here you can find some Cordillera Darwin icefield's glaciers as New
Zealand, Cuevas and others. There are big chances to see marine wildlife species like
Southern Elephant Seals (Mirounga leonina), Leopard seals (Hydrurga leptonyx) and
birds like Magellan Cormorant (Phalacrocorax magellanicus), Black-browed Albatross
(Thalassarche melanophris), Southern Giant Petrel (Macronectes giganteus), among
others.
11 MARINELLI FJORD
Here you can find Marinelli Glacier which belongs to Cordillera
Darwin icefields. There are also big chances to see marine wildlife.
12 BROOKES FJORD
Here you can find Brookes glacier which also belongs to Cordillera
Darwin icefields.
---
Why Whales come to Patagonia
Humpback whales (Megaptera novaeangliae) undertake seasonal migration between productive high-latitude areas where they feed in summer and low-latitude tropical waters where mating and calving occur during winter. In the eastern south Pacific, the species breeds off Colombia and Ecuador, and feeds primarily in the western Antarctic Peninsula and in the waters of the Strait of Magellan, like feeding ground for humpback whales. The duration of the whale's trip between these migratory destinations is 88 and 99 days. The humpback whale enters the channels of the Strait of Magellan and stayed there for almost five months to eat and rest.
---
Sub Antartic Forest
The southernmost forests in the world grow in Magellanic Chile, where forest species extend their range to within about 500 miles of Antarctica. The Subantartic Magellanic Evergreen Rainforest Ecoregion runs along the western margin of southern South America, extending from Penas gulf (48°S) to Cape Hornos (56° S). The distribution of this Ecoregion is correlated with an oceanic microthermal temperature regime and high, constant precipitation. The vegetation shows principally two types of forest, mainly evergreen "Nothofagus betuloides" forests to the west and deciduous "Nothofagus pumilio" and "Nothofagus antarctica" forests towards the east. This forests are pretty old, some specimens of Nothofagus betuloides are probably 1500–2000 years. There are other species like "Pilgerodendron uviferum" and "Podocarpus nubigena" that may reach ages of ⩽1000 years.
Even some of the small understory trees are probably several hundred years old. Its varied and majestic landscapes that include high mountain peaks, enormous icefields, and innumerable fjords are inhabited by endemic animal and plant species. Glaciers and icefields predominate toward the Andean mountains zone, while moorland and Tundra formation prevail toward the Pacific Ocean border. You can also find miniature forests covering the rocks and soil of the tundra formations along the coast and alpine zones with a diversity of lichen and moss species. This Tundra formations are characterized by prostate dwarf shrubs, cushion plants, grass-like plants and bryophytes on water-logged terrain that in different combinations form vegetation of scrub or bogs. The bogs comprise characteristic austral species such as Astelia,
Bolax, Caltha, Donatia, Drapetes, Gaimardia, Phyllachne and Lepidothamnus.
---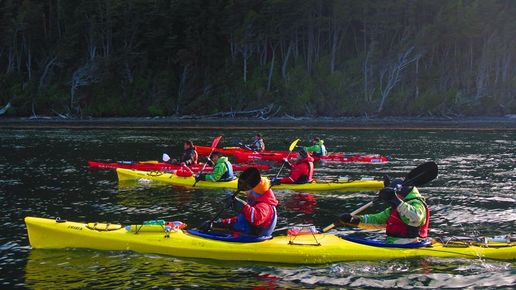 In this adventure you are going to navigate some of the canoe routes where Kawésqar native people used to move hundreds of years ago. As one of the Southern-Chilean Canoe Tribes, the Kawésqar lived a nomadic life, paddling the archipelago's channels in their canoes moving from island to island in search of food. It is said that they even carried their canoes short distances over land to avoid unnecessary sea trips. They used to navigate an extended territory from the Gulf of Penas roughly to the Strait of Magellan as far as the southern end of the Sarmiento Channel. Their canoes could hold a family of up to ten people. The family traveled with its dogs, weapons and tools, and the
leather sheet that was used as a tarp at campsites. 
Some routes Kawésqar used to navigate and we may also navigate are the following
_ San Nicolás Bay - Bouchage Bay
_ Charles Islands - Shag Pass
_ Bachelor River - Rupert Islands
_ Cape San Isidro - San Nicolas Bay.
---
Recommendations
Considering the rough weather conditions of the zone, we recommend you to dress in layers. You should wear a base Layer made of merino wool or synthetic fabrics. Remember this is your next-to-skin layer. It helps regulate your body temperature by moving perspiration away from your skin. A middle layer (insulating layer) helps you retain
heat by trapping air close to your body. Micro-fleeces, merino wool tops, soft shells and insulated jackets are some middle layers. And an outer layer that protects you from the wind and rain. You should also bring a warm beanie or a bandana, some warm gloves and  comfortable shoes.
---
Data Sheet
4 cuadruple cabins
2 double cabins
4 bathrooms in cabins deck 
2 bathrooms in main deck
Central heating and hot water